Quality Pest Solutions In Oswego, NY
Known as "The Port City of Central New York", the city of Oswego is a great place to call home. Lake Ontario runs along the northeastern border of the city, so we're lucky enough to enjoy both the beautiful scenic nature as well as the energy of city life. As the county seat of Oswego, we have a reputation of excellence to uphold, which is why pest infestations have no place here. Your Oswego, NY property is unfortunately vulnerable to pest activity, but you don't have to face it alone.
We here at Pestmaster® Services of Central NY, are at your service. We are a veteran-owned, locally-operated, certified small business that has been serving Central New York with quality pest control solutions for over 40 years. Our interrelated approach utilizes sustainable solutions to bring you pest control with Environmentality®.
Home Pest Control In Oswego, NY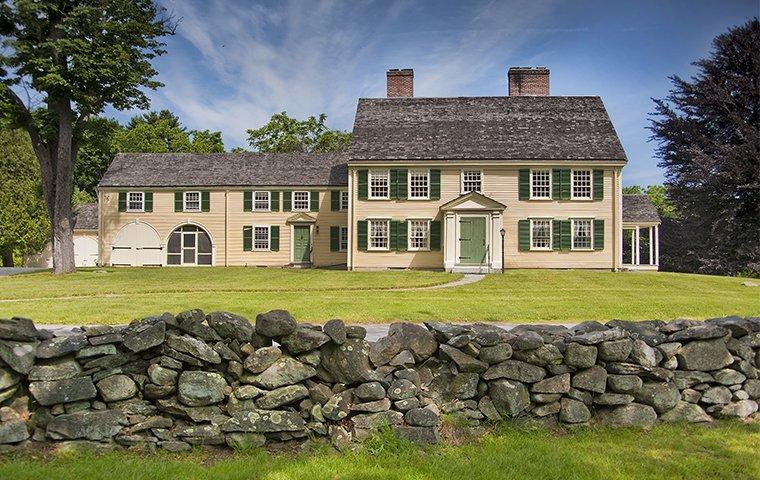 If you own a home in Oswego, you need to be wary of pest activity. These unwelcome intruders make their way into your home in search of food, water, and shelter.
Once they get inside, they can be very difficult to get rid of. Your best defense against an infestation is regularly scheduled service visits from our professionals.
Pestmaster® Services of Central NY offers complete home pest control solutions that guarantee year-round protection from harmful household pests. Our pest solutions are always green and always eco-friendly.
We use the latest products and most advanced technologies to get the job done in a safe yet effective manner. Our residential services also offer follow-up treatments throughout the year on a monthly, bi-monthly, or quarterly basis.
Commercial Pest Control In Oswego, NY
Oswego is home to a diverse array of businesses. They may all offer different services and products, but they all have at least one thing in common - the very real possibility of pest activity. Pest Infestations threaten your business in every way, which is why you need help from professionals. Pestmaster® Services of Central NY offers top-of-the-line commercial pest control solutions that protect your business from the dangers of infestations all year long.
Our Integrated Pest Management (IPM) strategies provide year-round coverage to a long list of commercial facilities, including:
Educational

Food Processing

Healthcare

Hospitality

Property Management

Restaurants
Whatever kind of pest situation you're dealing with, we can help. Everyone on our team goes through high-level employee training to bring you the quality services that you deserve. Our solutions are safe for you, they're safe for the environment, and they guarantee results that last. Call us today to further discuss your commercial pest control needs.
Servicing Government Facilities In Oswego, NY
From libraries and post offices to schools and office buildings, all governmental facilities are at risk of pest infestations. Our pest control solutions for government buildings provide dependable pest protection to a broad range of facilities. We service over 100 government institutions, including the DOD, DOE, Army Corps of Engineers, U.S. Park Services, U.S. Forest Services, and State Department.
Whatever type of governmental facility we're dealing with, we always provide the best. Our government pest control services proudly protect a variety of important institutions. Pestmaster® Services is a GSA (U.S. General Services Administration) approved pest control provider and longtime members of:
NPMA (National Pest Management Association)

NYSWMA (New York State Wildlife Management Association)

NYPMA (New York Pest Management Association)

Professional Service Council
Give us a call today to discuss the commercial pest control needs of your governmental facility. We will determine the status of your pest situation and develop a tailor-made plan to fit your needs. Contact us to schedule your initial inspection.
Indications Of Bed Bug Activity In Oswego, NY
Bed bugs bite, effectively preventing us from ever sleeping tight again. Just the thought of them feeding on our blood at night is disturbing enough the keep us awake at all hours. If you're paranoid about the possibility of a bed bug infestation, look out for the following:
A line of little red bites

Discarded eggshells and shed skins

Red blood stains on linens and bedding

Rusty brown excrement spots on linens and bedding
These common signs are usually indicative of a larger bed bug problem that you need to address. The best thing you can do is contact the team at Pestmaster® Services of Central NY for the complete bed bug control treatment. We treat the property from top to bottom, effectively eliminating bed bugs from the premises to give you peace of mind and a good night's sleep.
Additional Professional Services For Oswego, NY
When you partner with Pestmaster® Services of Central New York, you can feel confident knowing your property is in the best hands possible.We offer a broad range of services, including:
Ant control

Aquatic weed & algae control

Bed bug inspections & treatments

Decontamination
Health-related vector control

Mosquito abatement

Cockroach extermination
Rodent control & prevention

Spider control

Stinging insect treatments

Termite control & prevention

Vegetation Management
With an expert entomologist on staff, we customize our treatment plans to meet the needs of your particular pest problem. Give us a call today to set up your free inspection.